ROOF REPLACEMENT IN Fair Oaks Ranch, TX
Roof replacement and installation in Canyon Lake, TX can be hassle free when you work with Wilson Roofing and Renovations.
Fast Roof replacement in Fair Oaks Ranch, TX
There are a lot of things that can happen to your roof as time goes by. That's because it's constantly exposed to the elements, from bad storms to the steady beatdown of sunlight. Wilson Roofing and Renovations can take care of your roof repairs when you need them, but eventually you'll need a new roof. Your roof could just get old, or the damages could be too extensive. If that's the case, we might even suggest a roof replacement in Fair Oaks Ranch, TX as more cost-efficient.
We've got an experienced team of roofing experts that will work fast. We know how stressful it can be to not have a secure roof overhead. However, we'll also focus on quality, because you deserve results you can trust. That's why we always recommend a professional, because trying to replace your own roof can take more time and money.
After working on so many roofs over the years, we also know what we're doing. Your new roof will be even and built to last. That comes from working with the best manufacturers and their products. We know what will provide quality and stay within your budget. That last part is important, because we know how stressful finances can be when you need a new roof. Even if your insurance covers everything, you can still be left with the deductible. When you call us today at 210-764-4111 and schedule your free inspection, you're in the best hands!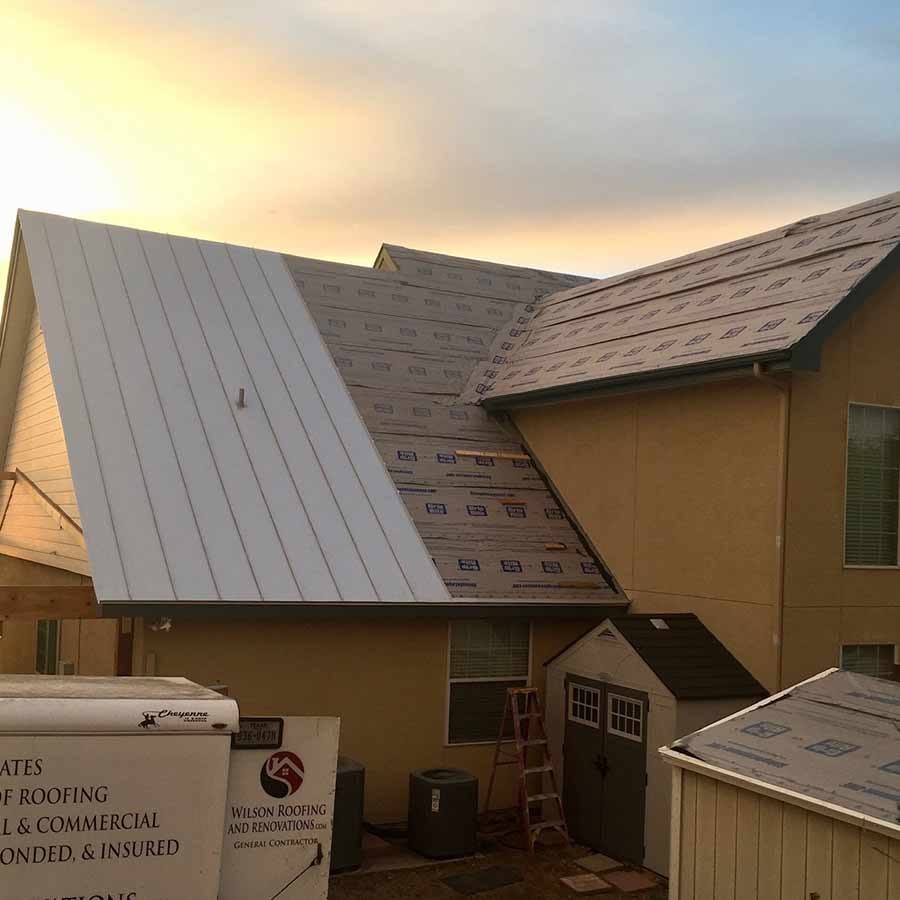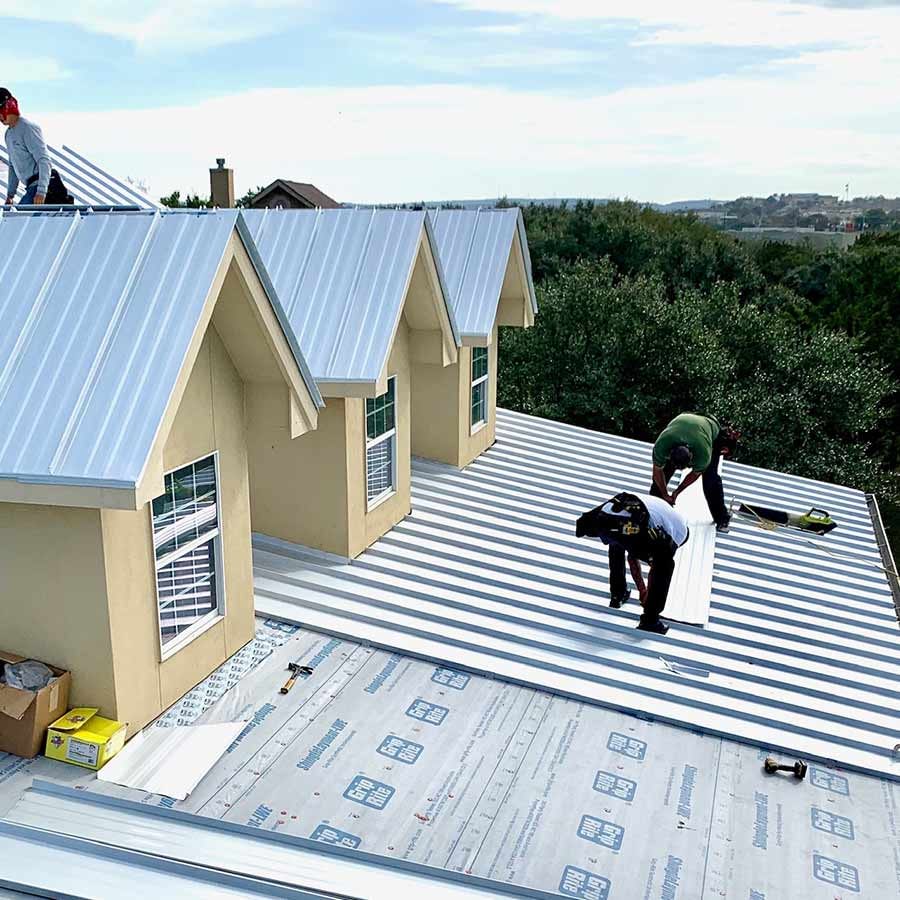 We'll Do Your roof Replacement in Fair Oaks Ranch, TX
There are a lot of people that think they can replace their own roof, but that's a big mistake. Not only can you end up spending more for less, but it will also take a lot longer. Then there's the issue of safety, because our team has equipment to stay out of harm's way. We'll give you a roof that's even and secure across the entire span.
In fact, you should work with Wilson Roofing and Renovations for many reasons:
After we're done with your roof replacement in Fair Oaks Ranch, TX, we'll help you register any product warranties.
Our team will work fast to give you a roof you can feel safe under. We'll also clean up when we're finished with your roof.

One of the best ways to improve your roof is with the right underlayment. We'll also install a drip edge to give your roof the best waterproofing available with top products.

By working from the bottom up, your roofing materials will be the most effective. You can trust our expertise with your roofing needs.
There are a lot of roofing companies out there, but you deserve the best. Wilson Roofing and Renovations has the experience and knowledge to deliver that. We'll recommend the best products and you could save a lot by working with the pros. If that sounds as good as it is, don't wait to call us today at 210-764-4111 for your free inspection!
Custom Roof Replacement in Fair Oaks Ranch, TX
We understand that any home improvement project requires financial consideration. A new roof can be expensive, especially when you need the previous materials removed. Wilson Roofing and Renovations keeps our costs fair and competitive. It all starts with our professional inspection and a fair, accurate estimate.
One way that we give an estimate that's close to the final number is with our product knowledge. Two of our favorite brands are CertainTeed and Atlas, for many reasons. They provide quality products that our customers have loved for years. They're also easy to work with, which can save you on labor. Of course, we also know that you might want a specific manufacturer and that's fine, too!
It's your roof, after all, so let us know. We'll be happy to make recommendations based on your budget either way. Our team knows all about the local safety codes and regulations, so we'll make sure you have a roof you can relax under. Give us a call today at 210-764-4111 and schedule your free inspection and estimate!
Don't just take our word for it. We have hundreds of happy customers.
I'm giving Wilson Roofing and Renovations Five stars. I appreciate the professionalism and friendliness. My experience with this company was a positive one; from the initial call with Brad to the contractors (Mark and John) arriving on-time to re-install my flue cap. The contractors made sure there was no other damage to my roof and ensured that the other caps were in place and secure. 

Wilson Roofing and Renovations did a great job, their men worked all day till the job was done. If I could give them 6 stars I would. Mark and Johnny were very friendly and informative throughout the process with the insurance company. GREAT job and will definitely use them again.

Was very apprehensive about the process, but Wilson Roofing and Renovations was professional in every aspect of the process. Brad's entire team is exceptional.
I am thrilled with the new roof and the painting of the 4,500 sq ft house all completed in just 4 days. A company that stands by their word and produces what they promise.

I needed some minor repairs completed to my home in preparation for selling it and Mark and his team were great. From Mark keeping his word about when the estimate would be given to the price, the entire process couldn't have been smoother!

Wilson Roofing completed work on my metal roof on two commercial buildings. The work was done promptly and completely. They came back out and reviewed all the work and even returned for a small bolt that still needed to be sealed. Very happy with the quality of work and materials they used.

I hired Wilson Roofing and Renovations to replace a roof on my home after hail damage. Not only was Brad and his team super professional, but they also got it done quickly, communicated well, did it for a great price and did a really great

Fantastic from initial contact through job completion. Brad communicated all his ideas in person and through the estimate and Sergio and the crew delivered on the promised roof. Had to replace it due to hail and hope it doesn't happen again soon, but would call them in a hurry if it does.