We can help with all types of roofing services in San Antonio – from small residential repairs to complex commercial installations.
We offer a wide variety of roofing services in the San Antonio, TX area. From simple residential repairs to complex commercial flat roof installations, we can do it all. Give us a call at 210-764-4111 or click the button below to request service.
Estimates are always free and 24/7 emergency service is always available.
Roof damage can happen to anyone, especially if you have an older home. Even the great materials with expert installation will weaken over time. Our number one priority is to give you the highest quality repair for the best price.
Here in San Antonio, our roofs need to deal with extreme heat and sudden storms, and the most common problems is a leaking roof. When a Wilson repair expert inspects your roof, he will look at everything. This will include all materials, underlayments, vents, chimneys, and gutters. We will make sure all repairs are completed on time and budget.
If you have insurance concerns, we can deal with the insurance company on your behalf.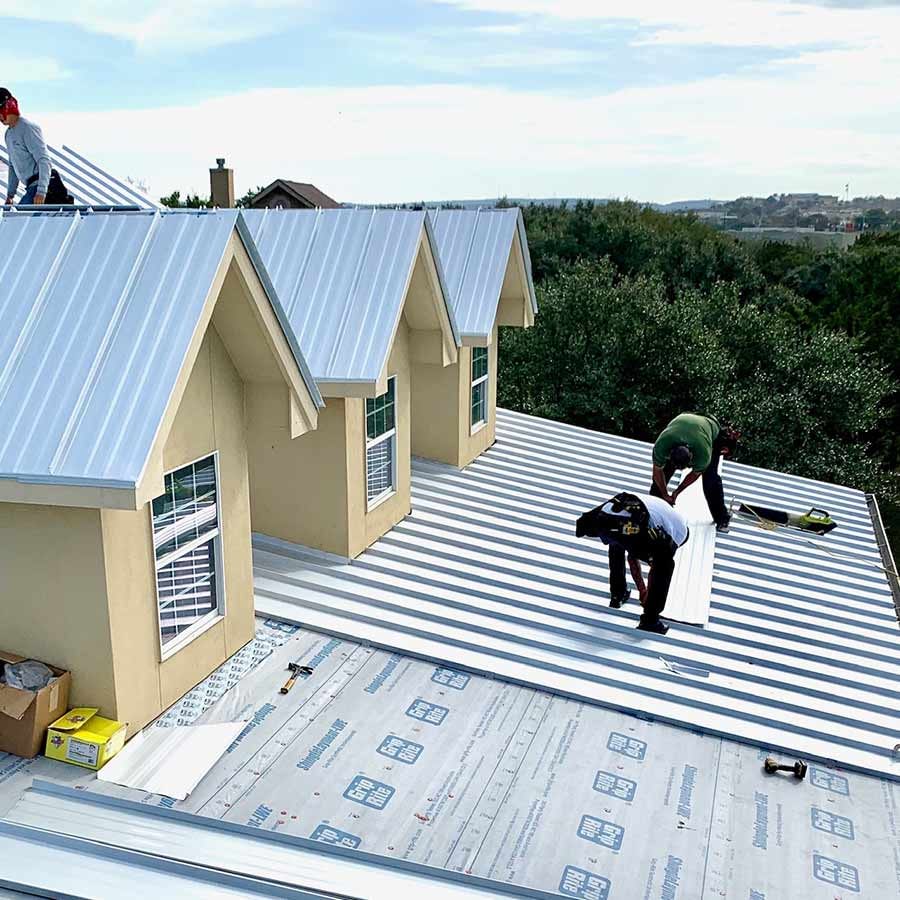 Common Types of Roof Problems
Hail Damage
All roof types can experience hail damage. Not only can the roof be compromised, but skylights, gutters, chimneys, and vent hoods can also be damaged.
Roof Leaks
Roof leaks can happen even when there is no sign of missing shingles. When there is a leak, mold growth is also a concern.
Damaged or Missing Shingles
This is a visible sign of a problem. Missing shingles can lead to a leaking roof. This can cause a lot of costly damage to the inside of your home and should be fixed immediately.
Fascia Warping or Molding
The fascia is a vertical band under a roof edge. It forms the finishing edge where the roof has its gutter attached and is susceptible to water damage.
When Do I need to replace my roof?
You will probably know when you need a new roof. There are often many visible indicators, like missing shingles, or cracked damaged and curled shingles. Another sign your roof may need replacing is age. Any roof that is 20 years or older is a good candidate for replacing.
But shingles are only one type of material. Other types like metal or tile have different life spans and different signs of wear. They should be inspected often to make sure they are in good condition. This is an especially good idea after a severe storm.
Besides materials, there are other important considerations required in roof replacement such as venting, roof pitch, water runoff, and weight issues. When assessing your home the experts at Wilson will take all into consideration before replacing your roof.
Building a new home is a big deal, with many stressful decisions to make. One of the most important decisions you will make is your roof. The roof of your new home needs to be more than aesthetic because it protects everyone under it. We can help you decide from a wide range of options; from standard shingles and tile to energy-efficient custom metal. Another consideration is the climate here in Texas, your roof will have to stand up to intense heat and sun along with the sudden storms of Spring. To avoid problems and extend the life of your roof, it's important that the initial roof installation is done right. The experts at Wilson Roofing and Renovations have many years of experience designing and installing roofs for new construction.
Strong winds and hail can often do more damage than just to the roof. When that happens the renovation side of our company is there for you.
We can not only repair your roof but we are also able to fix your fence, windows, siding, and gutters. We are full-service renovation experts who also specialize in working insurance claims to make your home like new again.
When severe weather happens Wilson should be the first call to make sure all damage is repaired as quickly as possible.
When your commercial building has roof damage or a roof leak, it's important to have a commercial roofing repair expert who can diagnose the problem and fix it quickly. Wilson Roofing & Renovations will work efficiently to repair your roof issue so we can help prevent any interruptions in your business operations.
Because not all roofing problems are noticed immediately, damage to commercial roofs can be large problems, and large problems are expensive problems. This is why it is important to have a professional inspection and repair by a company that is experienced in all commercial roofing materials, and techniques. If you notice a leak or issue with your commercial roof give us a call, and we'll make sure it's done right.
Don't just take our word for it. We have hundreds of happy customers.
I'm giving Wilson Roofing and Renovations Five stars. I appreciate the professionalism and friendliness. My experience with this company was a positive one; from the initial call with Brad to the contractors (Mark and John) arriving on-time to re-install my flue cap. The contractors made sure there was no other damage to my roof and ensured that the other caps were in place and secure. 

Wilson Roofing and Renovations did a great job, their men worked all day till the job was done. If I could give them 6 stars I would. Mark and Johnny were very friendly and informative throughout the process with the insurance company. GREAT job and will definitely use them again.

Was very apprehensive about the process, but Wilson Roofing and Renovations was professional in every aspect of the process. Brad's entire team is exceptional.
I am thrilled with the new roof and the painting of the 4,500 sq ft house all completed in just 4 days. A company that stands by their word and produces what they promise.

I needed some minor repairs completed to my home in preparation for selling it and Mark and his team were great. From Mark keeping his word about when the estimate would be given to the price, the entire process couldn't have been smoother!

Wilson Roofing completed work on my metal roof on two commercial buildings. The work was done promptly and completely. They came back out and reviewed all the work and even returned for a small bolt that still needed to be sealed. Very happy with the quality of work and materials they used.

I hired Wilson Roofing and Renovations to replace a roof on my home after hail damage. Not only was Brad and his team super professional, but they also got it done quickly, communicated well, did it for a great price and did a really great

Fantastic from initial contact through job completion. Brad communicated all his ideas in person and through the estimate and Sergio and the crew delivered on the promised roof. Had to replace it due to hail and hope it doesn't happen again soon, but would call them in a hurry if it does.