ROOF REPLACEMENT IN Canyon Lake, TX
Roof replacement and installation in Canyon Lake, TX can be hassle free when you work with Wilson Roofing and Renovations.
Fast Roof replacement in Canyon Lake, TX
Your roof should be able to keep you and your property safe from the elements for years. When your roof has run its course, though, you want someone you can trust to replace it. Wilson Roofing and Renovations has been working on roofs for a long time, so we've got a proven system for the best results. We'll have your roof replaced quickly without sacrificing quality, because you deserve to feel secure without a bunch of strangers walking around your property longer than necessary.
Something we see a lot these days is people using a tutorial on the Internet to try do it themselves. Not only will that take more time and effort on your part, but you'll end up spending about the same. On top of that, it can be dangerous. As experienced professionals, we have the equipment and tools to safely replace your roof.
It's not just about having access to better safety equipment, though. Every member of our team has been trained to know what they're doing, so that you get the best roof replacement in Canyon Lake, TX. Another reason that our customers love us is that, while we offer the best services, we keep our prices fair and competitive. You shouldn't have to pay more to have a roof you feel safe under. When you're ready for a company you can count on, call 210-764-4111 today and schedule your free estimate! We also have an online form for your convenience!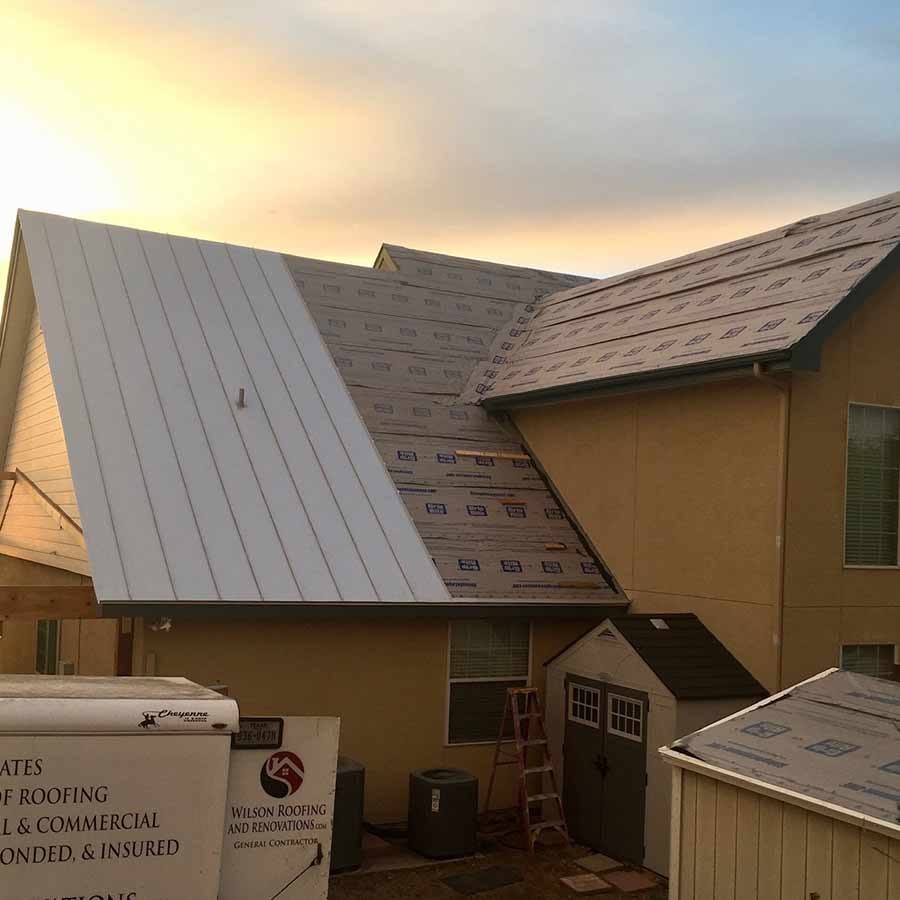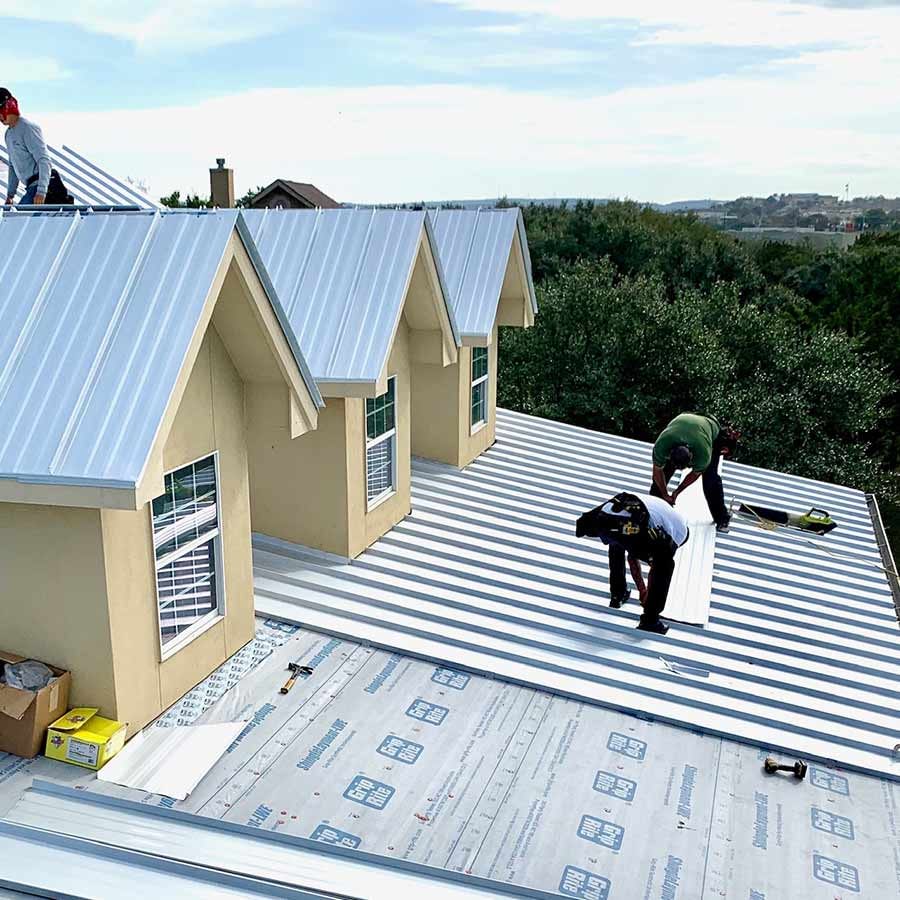 What to Expect with roof Replacement in Canyon lake, TX
We know it can be tempting to try doing things yourself, especially when it comes to your home. However, you'll be at risk of falling, injuring yourself with tools, or even heat stroke. You could also finish and realize your roof is uneven or exposed to leaks. Our trained professionals will make sure that your roof is done right the first time.
Here are some of the reasons we recommend hiring a pro for your roof:
It's not as easy as it sounds to take off existing roofing materials. There's also the cost of doing so, which most homeowners don't realize. We can take care of both problems ourselves.
You can trust that our free estimate will be as close to the final cost as possible, because you shouldn't feel blindsided.
Your roof can be better protected with proper waterproofing. There are a number of materials involved, like underlayment and a drip edge, that can prolong your new roof's life. We know the quality products to use for your benefit!
We'll take care of registering the warranty for your roofing.
Our team will start at the bottom of your roof and work our way up to make sure your roof is constructed for the best protection. You'll get the most from our professional knowledge.
Our process makes roof replacement faster. We keep our prices fair and you'll have a cleaned and sealed roof that you can trust.
You don't want just anyone handling your roof replacement in Canyon Lake, TX. We've got the skills and expertise to make sure you get the most from your new roof. By hiring a team of professionals, you can save in the long-run and have more protection. If you're ready to replace your roof with quality materials and products that will last call Wilson Roofing and Renovations today at 210-764-4111 for your free estimate!
Unique Roof Replacement in Canyon Lake, TX

We've been doing roof repairs and replacements for years, so you also get our experience when you hire Wilson Roofing and Renovations. Because of our time with roofing, we know the best manufacturers and quality products on the market. We love working with Atlas and CertainTeed because of their consistent quality and protection. With that being said, we also know that you might have a preferred brand that you've heard about or want to use.
We'll work with whatever you want, because you'll be the one living under your roof. Our experts will make recommendations for your needs, but we want you to be happy with the results. As long as what you want done doesn't violate any roofing safety codes or endanger our staff, we'll get it done.
You can start feeling safer the second you call us today at 210-764-4111 and talk to our experts about your replacing your roof! We'll schedule your free estimate over the phone, or you can fill out our online form!
Don't just take our word for it. We have hundreds of happy customers.
I'm giving Wilson Roofing and Renovations Five stars. I appreciate the professionalism and friendliness. My experience with this company was a positive one; from the initial call with Brad to the contractors (Mark and John) arriving on-time to re-install my flue cap. The contractors made sure there was no other damage to my roof and ensured that the other caps were in place and secure. 

Wilson Roofing and Renovations did a great job, their men worked all day till the job was done. If I could give them 6 stars I would. Mark and Johnny were very friendly and informative throughout the process with the insurance company. GREAT job and will definitely use them again.

Was very apprehensive about the process, but Wilson Roofing and Renovations was professional in every aspect of the process. Brad's entire team is exceptional.
I am thrilled with the new roof and the painting of the 4,500 sq ft house all completed in just 4 days. A company that stands by their word and produces what they promise.

I needed some minor repairs completed to my home in preparation for selling it and Mark and his team were great. From Mark keeping his word about when the estimate would be given to the price, the entire process couldn't have been smoother!

Wilson Roofing completed work on my metal roof on two commercial buildings. The work was done promptly and completely. They came back out and reviewed all the work and even returned for a small bolt that still needed to be sealed. Very happy with the quality of work and materials they used.

I hired Wilson Roofing and Renovations to replace a roof on my home after hail damage. Not only was Brad and his team super professional, but they also got it done quickly, communicated well, did it for a great price and did a really great

Fantastic from initial contact through job completion. Brad communicated all his ideas in person and through the estimate and Sergio and the crew delivered on the promised roof. Had to replace it due to hail and hope it doesn't happen again soon, but would call them in a hurry if it does.