ROOF REPLACEMENT IN BULVERDE, TX
Roof replacement and installation in Bulverde, TX can be hassle free when you work with Wilson Roofing and Renovations.
Quick Roof replacement in Bulverde, TX
Wilson Roofing & Renovation has a streamlined procedure which we follow strictly for purposes of quality control in operations. This commitment to adhere to a systematic method not only ensures that our roof replacement services are delivered with a consistent level of quality, but also with efficiency. By implementing a structured approach to roof construction, our roofing teams are able to provide top-quality results faster than other contractors offering roof replacement in Bulverde, TX.
While we appreciate the fact that you can study a YouTube video and try to fix or replace your own roof, as roofing professionals, we have to recommend that you not do that. It's actually quite dangerous. Save yourself the money and please don't risk your own life or safety by attempting to replace your roof on your own!
Our roofing service technicians receive both formal and on-the-job training to ensure that they are prepared to provide the highest quality roof replacement in town. For roof replacement services that you can rely on to satisfy your roofing needs for a surprisingly competitive price, you are in the right place. Contact us today at 210.764.4111 or send us a message using our Contact Form to schedule your service! We provide 24/7 emergency repair services and have representatives ready to take your call whenever you need roof repair in Bulverde, TX.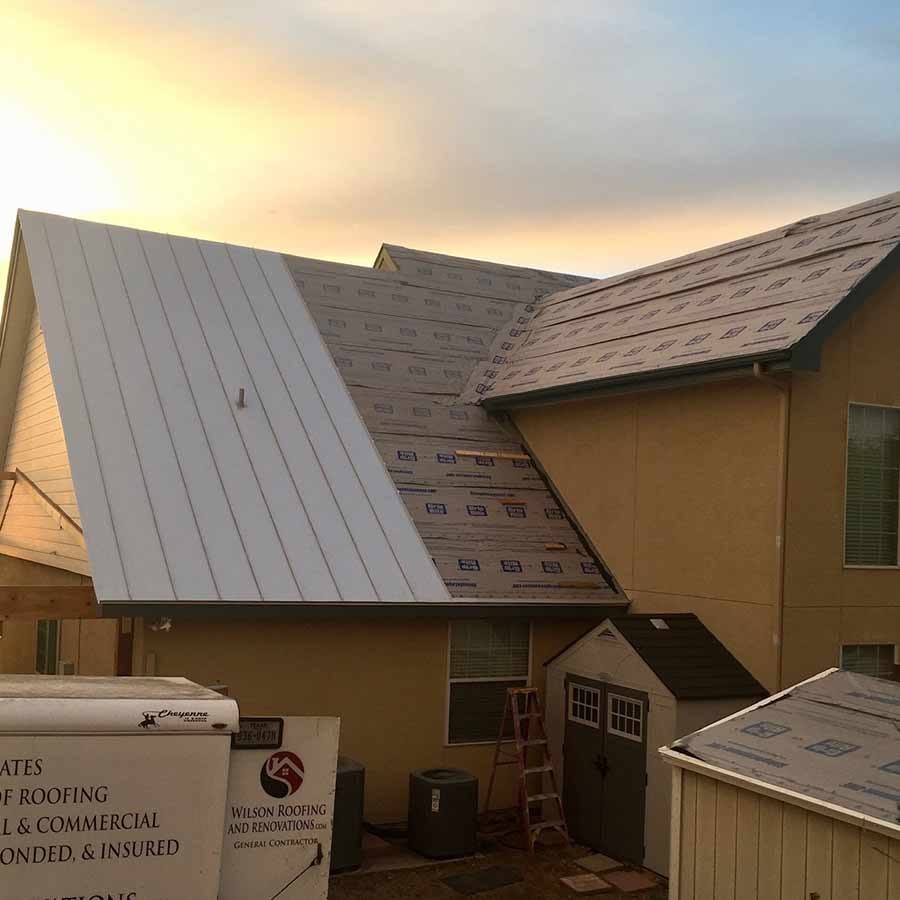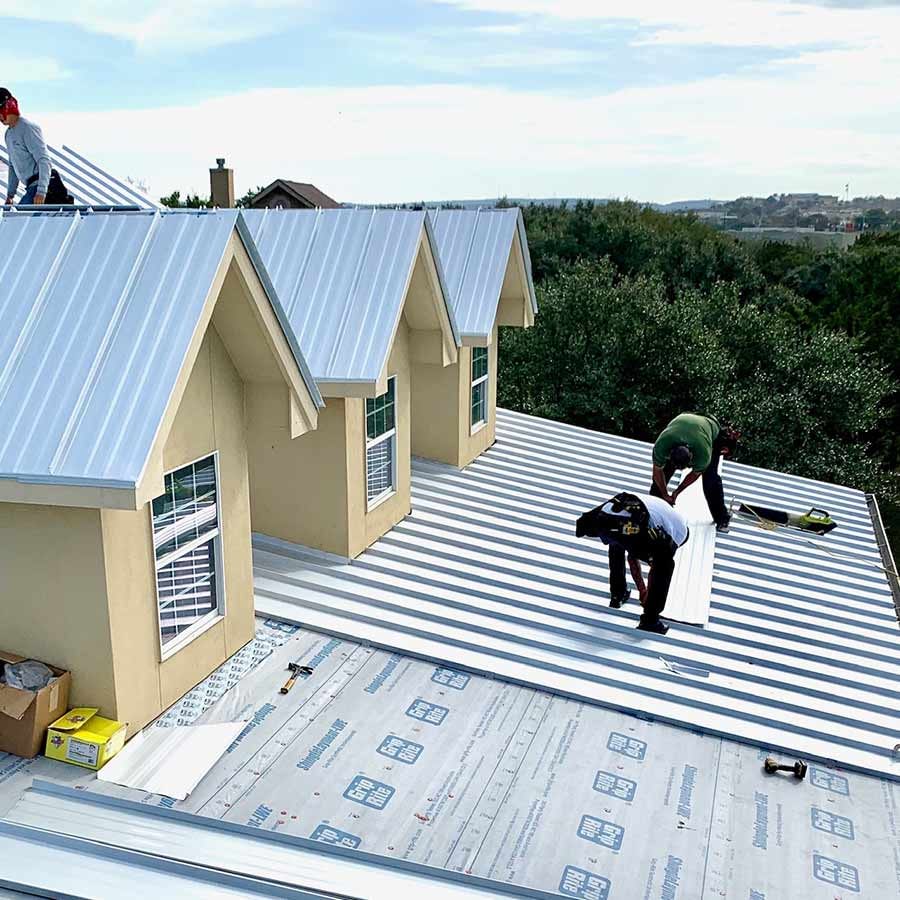 Our Process of roof Replacement in Bulverde, TX
We care about our clients, but we also care about our employees.  We train our employees using a combination of both formal, informal, and on-the-job training procedures and require that they are fully knowledgeable of how to conduct their on-the-job tasks without taking on unnecessary risks to their well-being and health.
Professional Roofing Service providers offer numerous advantages:
You'll receive an estimate for the necessary work that is not only free, but also accurate.
We'll get rid of your old roofing materials. People underestimate the challenge and costs involved in removing old roofing materials – we'll handle that for you!
We know how to properly install waterproofing materials, which must be applied strategically – drip edge and underlayment included – to take full advantage of the technology behind the waterproofing effects.
We understand the value of good roofing construction technique and will build your roof replacement in Bulverde, TX from the bottom to the top.
Wilson roofers will clean, seal, and complete your roof replacement quickly and for the most competitive price around.
Your roofing warranty will be registered for your peace of mind.
For quality roof replacement, contact Wilson Roofing & Renovations today at 210.764.4111 and see the difference that having a highly trained professional can make for your roof.  Save money and protect your home with a quality roof replacement by Wilson Roofing & Renovations!  Call us or send us a message using the provided Contact Form.  We look forward to hearing from you soon!
Customizable Roof Replacement in Bulverde, TX

Our dedication to quality in service also encompasses the material resources which we employ when performing our roof repair and roof replacement services. Due to the generally superior quality of CertainTeed and Atlas roofing products are our standard, but our customers' choice always takes preference. If you have a preference, we can always work with you to implement whichever roofing materials you feel most confident about using.
We are willing to customize our roofing work to meet your unique specifications. Provided that your requests are not unsafe or in conflict with regulations, we are willing to coordinate with you to do what it takes to design and construct the roof that you want – it is your roof after all, and we want you to be happy.
If you are looking for roof replacement in Bulverde, TX, Wilson Roofing and Renovations can get you started with a free estimate. Give us a call at 210-764-4111 for the results you deserve!
Don't just take our word for it. We have hundreds of happy customers.
I'm giving Wilson Roofing and Renovations Five stars. I appreciate the professionalism and friendliness. My experience with this company was a positive one; from the initial call with Brad to the contractors (Mark and John) arriving on-time to re-install my flue cap. The contractors made sure there was no other damage to my roof and ensured that the other caps were in place and secure. 

Wilson Roofing and Renovations did a great job, their men worked all day till the job was done. If I could give them 6 stars I would. Mark and Johnny were very friendly and informative throughout the process with the insurance company. GREAT job and will definitely use them again.

Was very apprehensive about the process, but Wilson Roofing and Renovations was professional in every aspect of the process. Brad's entire team is exceptional.
I am thrilled with the new roof and the painting of the 4,500 sq ft house all completed in just 4 days. A company that stands by their word and produces what they promise.

I needed some minor repairs completed to my home in preparation for selling it and Mark and his team were great. From Mark keeping his word about when the estimate would be given to the price, the entire process couldn't have been smoother!

Wilson Roofing completed work on my metal roof on two commercial buildings. The work was done promptly and completely. They came back out and reviewed all the work and even returned for a small bolt that still needed to be sealed. Very happy with the quality of work and materials they used.

I hired Wilson Roofing and Renovations to replace a roof on my home after hail damage. Not only was Brad and his team super professional, but they also got it done quickly, communicated well, did it for a great price and did a really great

Fantastic from initial contact through job completion. Brad communicated all his ideas in person and through the estimate and Sergio and the crew delivered on the promised roof. Had to replace it due to hail and hope it doesn't happen again soon, but would call them in a hurry if it does.