ROOF REPAIR IN Stone Oak, TX
Whether you've got a small leak or extensive storm damage, let Wilson Roofing and Renovations help with your roof repair in Stone Oak, TX.
Quality Roof Repair in Stone Oak, TX
Even minor leaks or slightly damaged roofing can wreak havoc on your home. After a hard day at work, the last thing you want to deal with is a roofing issue. Whether you've got a little leak or significant storm damage, Wilson Roofing and Renovations can handle your roof repair in Stone Oak, TX.
There are a lot of roofing contractors out there, but we're the best. You don't have to take our word for it. Our customers give us top-notch reviews on sites such as Google and HomeAdvisor.
Join our family of satisfied clients and call 210-764-4111 for your quality roof repair in Stone Oak, TX, today! Our experts will skillfully repair your roof and ensure your home is restored.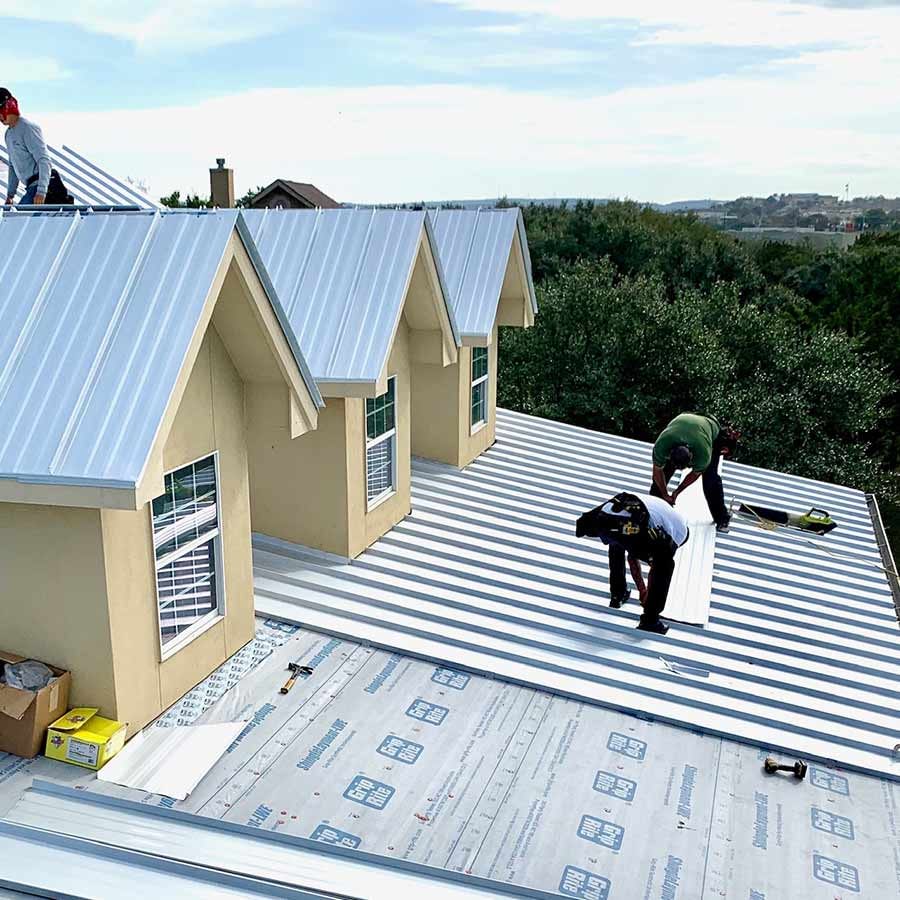 Roof Repair in Stone Oak, TX When you need it
Roof damage is often unpredictable. A rogue tree branch could fall on a stormy night, or a sudden leak could pop up on the weekend. No matter the time, we've got an emergency service ready to help! 
Many companies have traditional 9 to 5 business hours. However, Wilson Roofing is available 24/7 by contacting our call service. We ensure our customers have dependable assistance at any time.
We understand that roof damage can be dangerous, and your safety is our priority. We stay prepared for sudden disasters by keeping extra materials on hand. You can feel confident that your issue will be resolved promptly. Call Wilson Roofing now for emergency roof repair in Stone Oak, TX!
Preventative Roof Repair in Stone Oak, TX
Wilson Roofing and Renovations understands the everyday wear that affects your roof. The structural integrity of your roof keeps your home and business premises safe. Home and business owners must be mindful of the signs that signal their roof is degrading or having issues. Proper maintenance is essential because a small leak, if left unnoticed, can cause big problems down the road. Some easy issues to spot are:
Damaged Flashing. Flashing is the metal around external roof features. If it's missing or damaged, it can lead to leaks.

Damaged Shingles. Look for cracked, peeling, or missing shingles. Also, check for wet or dark sections of shingles. Finding large amounts of granules when you clean your gutters is another sign.

Paint Damage. If the paint on your home is bubbling up, it is a sign that water or water vapor is getting under the roof. Another sign of leakage is dark spots on the ceiling or walls, especially near water pipes.
If you notice any signs that your roof might be in disarray or your materials are nearing their lifespan, give us a call. Preventative roof repair in Stone Oak, TX can save you from a more extensive repair or even a roof replacement. Traditional shingles are the most popular roofing choice, but it is just one of many options.
We install and maintain shingled grooves and many other types of roof alternatives. Below are some of the commercial and residential roofing options for you to choose from:
Asphalt shingles

Wood shakes or shingles

Slate or tile

Flat roof systems

Metal
Wilson Roofing and Renovation are experts in the home renovation and repair industry. We provide unparalleled service, from fixing moderate leaks to extensive roof damage. We look forward to adding you to our growing list of delighted customers when you call today for an estimate!
Don't just take our word for it. We have hundreds of happy customers.
I'm giving Wilson Roofing and Renovations Five stars. I appreciate the professionalism and friendliness. My experience with this company was a positive one; from the initial call with Brad to the contractors (Mark and John) arriving on-time to re-install my flue cap. The contractors made sure there was no other damage to my roof and ensured that the other caps were in place and secure. 

Wilson Roofing and Renovations did a great job, their men worked all day till the job was done. If I could give them 6 stars I would. Mark and Johnny were very friendly and informative throughout the process with the insurance company. GREAT job and will definitely use them again.

Was very apprehensive about the process, but Wilson Roofing and Renovations was professional in every aspect of the process. Brad's entire team is exceptional.
I am thrilled with the new roof and the painting of the 4,500 sq ft house all completed in just 4 days. A company that stands by their word and produces what they promise.

I needed some minor repairs completed to my home in preparation for selling it and Mark and his team were great. From Mark keeping his word about when the estimate would be given to the price, the entire process couldn't have been smoother!

Wilson Roofing completed work on my metal roof on two commercial buildings. The work was done promptly and completely. They came back out and reviewed all the work and even returned for a small bolt that still needed to be sealed. Very happy with the quality of work and materials they used.

I hired Wilson Roofing and Renovations to replace a roof on my home after hail damage. Not only was Brad and his team super professional, but they also got it done quickly, communicated well, did it for a great price and did a really great

Fantastic from initial contact through job completion. Brad communicated all his ideas in person and through the estimate and Sergio and the crew delivered on the promised roof. Had to replace it due to hail and hope it doesn't happen again soon, but would call them in a hurry if it does.