ROOF REPAIR IN Shavano Park, TX
Whether you've got a small leak or extensive storm damage, let Wilson Roofing and Renovations help with your roof repair in Shavano Park, TX.
Fast Roof Repair in Shavano Park, TX
In any building or home, roofing is the most important structural component. It protects homes from leaks, mold, and weather. Proper maintenance is essential in order to avoid moisture build up, insects/animals, and heat damage that can wither away at your roof.
Without proper upkeep, cracked shingles, ice dams, and dirty gutters can put your house at risk. In order to find out the state of your roof, trust Wilson Roofing and Renovations for the best affordable roof care.
No matter what day or time, we have reliable and emergency services ready to help! Don't just take our word for it, check out our customer reviews on sites like Google and HomeAdvisor.
To join our happy customers and community, call us today and get started with a free estimate! Our experts will make sure you're protected and take preventative measures to ensure your roof is in perfect condition.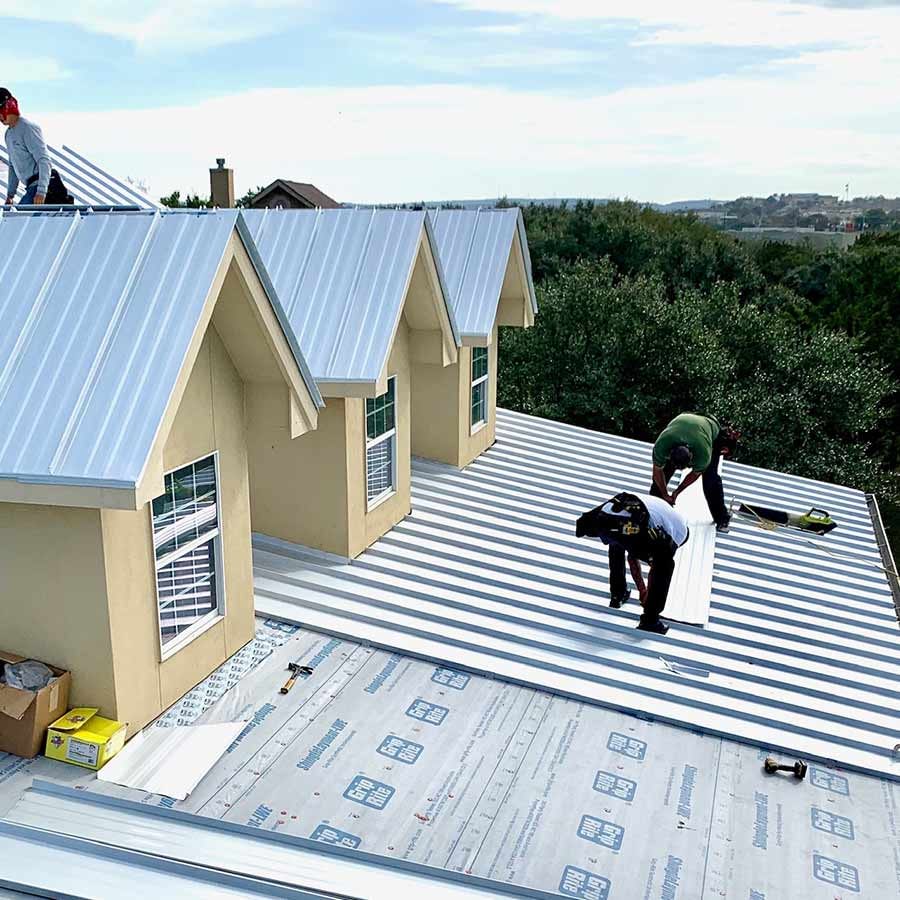 Effective Roof Repair in Shavano Park, TX
After dealing with the stress of the workday, no one wants to come home to water leaking through their roof. Whether you see discolored spots on your ceiling or water has already begun to drip through, you will want to call Wilson Roofing and Renovations.
We can handle anything from water leaks and structural damage to a collapsed roof. By creating a 24/7 service line, we are here to help you with any roofing disaster.
A majority of roofing services only offer customer care within their business hours, but we will always be one call away no matter what hour of the day.
Don't wait till the last minute, take control of your home. Your safety is our top priority, and we want to be the ones you can rely on. In order to feel secure about your home, call us now to get an estimate today.
Need Roof Repair in Shavano Park, TX?
There can be various signs that your roof is suffering from structural damage. The most obvious signs are: 
Missing metal around the external roof which protects against leaks

Wet or dark looking shingles

Bubbled paint on the ceiling 

Cracked or missing shingles

A large amount of granules around the gutter
We understand it can be difficult to spot these signs which is why routine roof maintenance is essential. Here at Wilson Roofing and Renovations, we take pride in making sure each of our customers feels safe under their own roof. Even the smallest leaks can wreak havoc, so it is important to always take preventative measures.
If that means roof replacement, we can help you there, too. Here at Wilson Roofing and Renovations, we can help you put new roofing on your commercial or residential property. We offer asphalt shingles, wood shakes, shingles slates, tile, or flat roof systems. If you suspect your materials are nearing their lifespan or notice any signs of deterioration or leaks, give us a call now.
Preventative repairs can save you time and money in the future. Whether you suspect roof damage or simply want to make sure everything is intact, give us a call now for an estimate!
Don't just take our word for it. We have hundreds of happy customers.
I'm giving Wilson Roofing and Renovations Five stars. I appreciate the professionalism and friendliness. My experience with this company was a positive one; from the initial call with Brad to the contractors (Mark and John) arriving on-time to re-install my flue cap. The contractors made sure there was no other damage to my roof and ensured that the other caps were in place and secure. 

Wilson Roofing and Renovations did a great job, their men worked all day till the job was done. If I could give them 6 stars I would. Mark and Johnny were very friendly and informative throughout the process with the insurance company. GREAT job and will definitely use them again.

Was very apprehensive about the process, but Wilson Roofing and Renovations was professional in every aspect of the process. Brad's entire team is exceptional.
I am thrilled with the new roof and the painting of the 4,500 sq ft house all completed in just 4 days. A company that stands by their word and produces what they promise.

I needed some minor repairs completed to my home in preparation for selling it and Mark and his team were great. From Mark keeping his word about when the estimate would be given to the price, the entire process couldn't have been smoother!

Wilson Roofing completed work on my metal roof on two commercial buildings. The work was done promptly and completely. They came back out and reviewed all the work and even returned for a small bolt that still needed to be sealed. Very happy with the quality of work and materials they used.

I hired Wilson Roofing and Renovations to replace a roof on my home after hail damage. Not only was Brad and his team super professional, but they also got it done quickly, communicated well, did it for a great price and did a really great

Fantastic from initial contact through job completion. Brad communicated all his ideas in person and through the estimate and Sergio and the crew delivered on the promised roof. Had to replace it due to hail and hope it doesn't happen again soon, but would call them in a hurry if it does.