ROOF REPAIR IN Fair Oaks Ranch, TX
Whether you've got a small leak or extensive storm damage, let Wilson Roofing and Renovations help with your roof repair in Canyon Lake, TX.
Quick Roof Repair in Fair Oaks Ranch, TX
You need your roof to protect your home or business from the elements. Because it's always exposed to heavy rains and winds, though, it's only a matter of time before your roof is damaged. Sometimes, it's not even the weather. Tall trees can scratch off shingles. If you lose the materials, water can also soak through the underlayment and cause problems below. Whatever the case, you can trust Wilson Roofing and Renovations to get your roof patched up!
We've got experience with all kinds of buildings, residential and commercial. Businesses have inventory and employees to worry about, so your roof is important to keep up with. The same goes for homeowners, whether you live alone or have a family to protect. Repairs can come in all shapes and sizes, from replacing shingles to fixing a piece of flashing that's been damaged.
When your roof needs fixed, you want someone you can count on. Our experts at Wilson Roofing and Renovations will give you the best results. We'll work with your budget to get you roof repair in Fair Oaks Ranch, TX. We know the quality products that will last without breaking the bank, so you don't have to worry. With our experienced team, you're in the best hands. Don't hesitate to call 210-764-4111 today and schedule your free inspection and estimate!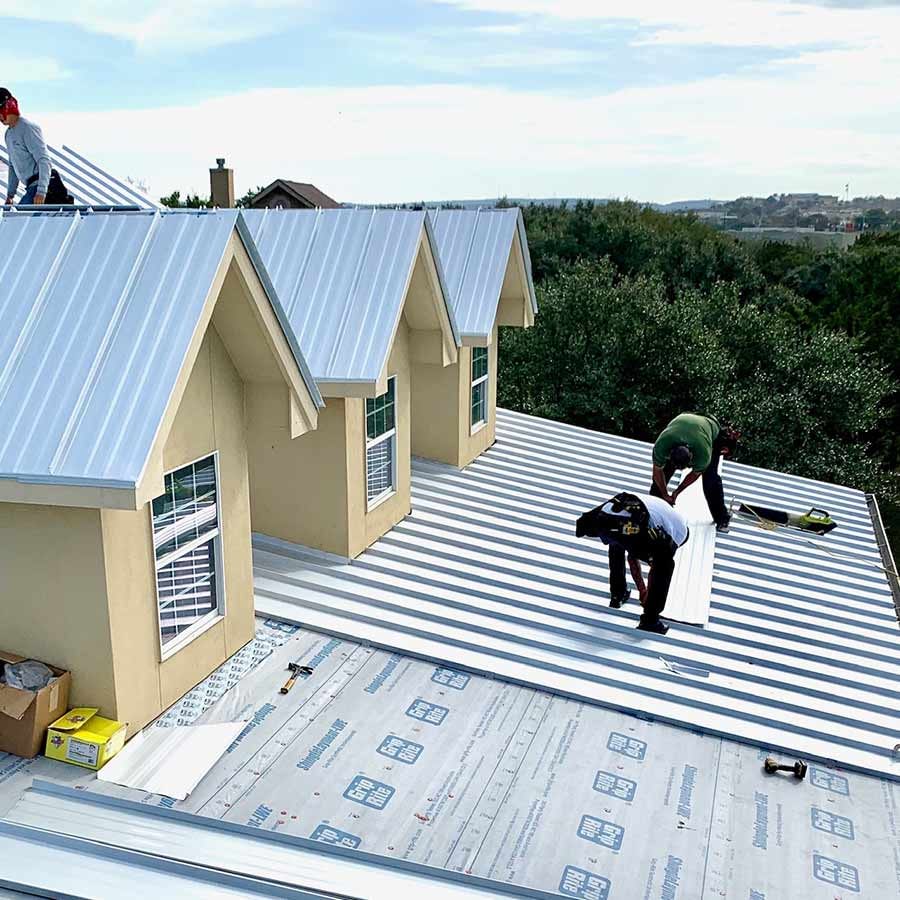 One of the biggest mistakes a lot of people make is not getting a routine inspection. Our inspection might catch a minor issue before it becomes a bigger, costlier one. If you wait to get a repair, the damage might be bad enough for a roof replacement. Between leaks, possible mold, and a weakened decks, it can get dangerous.
We'll give you a free inspection and improve the lifespan of your roof when you call us at 210-764-4111 today!
Need Roof Repair in Fair Oaks Ranch, TX?
You never know when your roof will be damaged. There could be early signs that your roof is in trouble, but sometimes things just happen. Mother Nature doesn't exactly wait for the hours of 9 to 5. You might also not notice a leak until there's a bad storm at 2 in the morning and rain starts coming through your ceiling. Whatever the case, Wilson Roofing and Renovations is prepared to help. We've got a call service set up for emergencies, so you can contact us 24/7 for your roof repair in Fair Oaks Ranch, TX.
You need your roof to be secure and we want to make that happen. Our team has experience with all kinds of roofing emergencies, from basic repairs to emergency roof replacement. We also know that business owners might have an emergency, because you need a safe building to open the doors. That's why we watch the weather and get extra supplies for bad storms. If you need roofing services, call 210-764-4111 today and let us know how we can help!
Let Us Do Your Roof Repair in Fair Oaks Ranch, TX
If you haven't had your roof worked on in a while, you might have some questions. That's why our team of experts has come up with a few answers to the most common ones:
Your roof is built to hold out for a while, but nothing lasts forever. Some materials are stronger or made better. Weather can also play a big role. Either way, a routine inspection can find out the state of your roof and we'll go from there.

As long as the weather stays outside, your roof should be good for many years. However, missing or damaged shingles or flashing can lead to huge problems. Any signs that your roof is in trouble should get a call to us, just to be safe.

What your insurance will cover relies a lot on your insurance policy. Most policies cover basic roofing damages, but not cosmetic ones. The best way to get coverage is to keep any documentation and take before and after photographs of any work done. Having a professional inspection can also help your claim.
Watch for peeling or cracked shingles. If you're on the roof and it sags under your weight, that's also a bad sign. If you notice those or any of the above problems, give us a call today at 210-764-4111 and get started with a free inspection and estimate!
Don't just take our word for it. We have hundreds of happy customers.
I'm giving Wilson Roofing and Renovations Five stars. I appreciate the professionalism and friendliness. My experience with this company was a positive one; from the initial call with Brad to the contractors (Mark and John) arriving on-time to re-install my flue cap. The contractors made sure there was no other damage to my roof and ensured that the other caps were in place and secure. 

Wilson Roofing and Renovations did a great job, their men worked all day till the job was done. If I could give them 6 stars I would. Mark and Johnny were very friendly and informative throughout the process with the insurance company. GREAT job and will definitely use them again.

Was very apprehensive about the process, but Wilson Roofing and Renovations was professional in every aspect of the process. Brad's entire team is exceptional.
I am thrilled with the new roof and the painting of the 4,500 sq ft house all completed in just 4 days. A company that stands by their word and produces what they promise.

I needed some minor repairs completed to my home in preparation for selling it and Mark and his team were great. From Mark keeping his word about when the estimate would be given to the price, the entire process couldn't have been smoother!

Wilson Roofing completed work on my metal roof on two commercial buildings. The work was done promptly and completely. They came back out and reviewed all the work and even returned for a small bolt that still needed to be sealed. Very happy with the quality of work and materials they used.

I hired Wilson Roofing and Renovations to replace a roof on my home after hail damage. Not only was Brad and his team super professional, but they also got it done quickly, communicated well, did it for a great price and did a really great

Fantastic from initial contact through job completion. Brad communicated all his ideas in person and through the estimate and Sergio and the crew delivered on the promised roof. Had to replace it due to hail and hope it doesn't happen again soon, but would call them in a hurry if it does.