ROOF REPAIR IN BULVERDE, TX
Whether you've got a small leak or extensive storm damage, let Wilson Roofing and Renovations help with your roof repair in Bulverde, TX.
Attentive Roof Repair in Bulverde, TX
If your home or business' roof is showing significant signs of wear and tear, has recently been damaged, or doesn't properly mesh with the overall visual theme of your property's exterior, you'll want to find a roofing contractor with a proven track record for providing high-quality roof repairs.  Wilson Roofing & Renovations is a reputable remodeling and roofing services company with extensive experience when it comes to roof repair services.
Your roof protects your property, your possessions, and most importantly, the people who are living or working underneath it.  If you are looking for roof repair because your home or business' roof has recently been damaged by severe weather, or simply because the effects of time and nature have finally taken a toll that you can no longer ignore, Wilson Roofing can help.
We recognize that the need for roof repair in Bulverde, TX can be source of stress.  The good news is that while it can cost a lot of amount of money and take quite a bit longer to have an entire roof replaced, roof repairs can often be performed for much less and in a fraction of the time.  But, to ensure that this is the case, you'll want a roofer who can complete the roof repairs that your property needs in a time-efficient and affordable manner.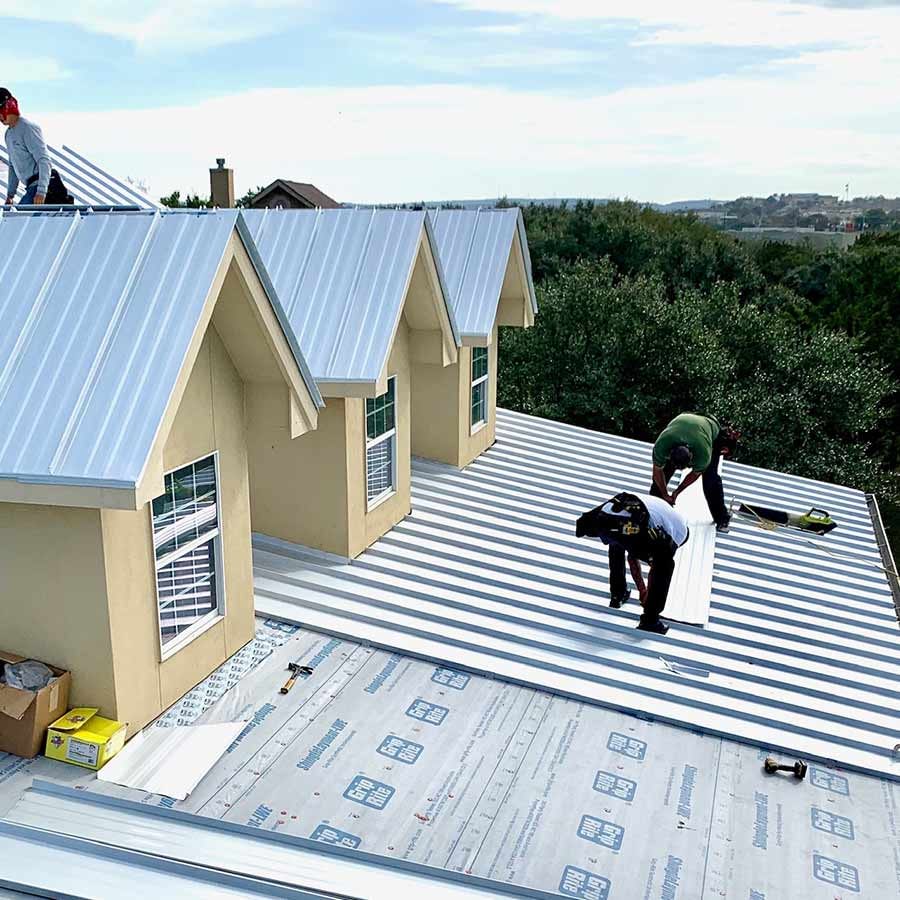 For roof repair in Bulverde, TX you can depend on, you can't go wrong if you choose to contact Wilson Roofing and Renovations.   Don't wait until minor issues become major problems, call 210-764-4111 today or use our Contact Form to send us a message with any questions or to request an appointment for a free estimate! 
Our roof repair services team will fix your roof and get you back on track so you can focus on your daily life with a clear mind as fast as possible.
Emergency Roof Repair in Bulverde, TX
If you need emergency roof repair in Bulverde, TX, Wilson Roofing & Renovations has got you covered.  Many roof repair contractors quit answering the phone after of 5 or 6 pm, but we realize that when the need for roof repairs arises, it can easily happen outside of normal business hours!  We recognize that you might not have the luxury of waiting until some other roofing company feels like answering the phone.  That's why Wilson Roofing & Renovations takes calls 24 hours a day, all year round.
We care about the safety of you, your family, and your employees, and so we make sure we are ready and able to take your call so that we can deliver roof repair services when you need them the most. We even keep additional materials in stock to ensure that even if you get caught by surprise, we will not, so you can depend on us for your roof repair emergencies whenever they strike.  Contact Wilson Roofing & Renovations today at 210-764-4111!
QUESTIONS ABOUT Roof Repair in Bulverde, TX
Here are some answers to common questions related to roofing that many home and business owners never think to ask until it's too late:
How long can I expect my roof to last before I need to repair or replace it?
Your roof's lifespan can vary greatly depending on several factors including the materials from which it is made, the thickness and quality of those materials, the weather patterns in the area where your office or home is located, and the quality of the installation.   You may not always have much choice when it comes to the first of those three factors, but if you choose Wilson Roofing & Renovations to handle your roofing needs, you can rest assured that you won't have to worry about the fourth factor on that list!
Is damage to my roof covered under my home's insurance plan?
While this can vary depending on the specific details of the insurance policy you have for your property, it is common for property insurance policies to cover damage to roofing that is caused by inclement weather and naturally occurring hazards to property such as falling tree limbs, hailstorms, and fire.  You should familiarize yourself with your home or business' insurance policy to ensure that you won't be caught by surprise when you find yourself in need of roof repairs due to bad weather.  If you need roof repair services,  Wilson Roofing & Renovations will work with your insurance company to help get the job done quickly and correctly.
When is it okay to repair my roof and when do I need to have it replaced entirely?
Just because your roof has a small leak, it doesn't necessarily need to be replaced. In fact, if you take action to ensure that you are aware of the state of your roof's condition, it's very possible that you can prevent yourself from needing to seek out roofing services for some of the more serious and expensive roofing-related issues in the first place.  If you have noticed a leaky spot on your roof, have seen that shingles are missing or are worn down in specific areas of your roof, or think that an area of your roof may be starting to sag or appears to be deforming, contact Wilson Roofing & Renovations today for roof repair in Bulverde, TX.  Our services are affordable and highly-recommended by our customers!
Don't wait until your roof's need of minor repairs turns becomes more severe, call us today at 210-764-4111 or use our Contact Form to send us a message and schedule your free estimate!  Wilson Roofing & Renovations is a leading provider of roof repair in Bulverde, TX.  Contact us today!
Don't just take our word for it. We have hundreds of happy customers.
I'm giving Wilson Roofing and Renovations Five stars. I appreciate the professionalism and friendliness. My experience with this company was a positive one; from the initial call with Brad to the contractors (Mark and John) arriving on-time to re-install my flue cap. The contractors made sure there was no other damage to my roof and ensured that the other caps were in place and secure. 

Wilson Roofing and Renovations did a great job, their men worked all day till the job was done. If I could give them 6 stars I would. Mark and Johnny were very friendly and informative throughout the process with the insurance company. GREAT job and will definitely use them again.

Was very apprehensive about the process, but Wilson Roofing and Renovations was professional in every aspect of the process. Brad's entire team is exceptional.
I am thrilled with the new roof and the painting of the 4,500 sq ft house all completed in just 4 days. A company that stands by their word and produces what they promise.

I needed some minor repairs completed to my home in preparation for selling it and Mark and his team were great. From Mark keeping his word about when the estimate would be given to the price, the entire process couldn't have been smoother!

Wilson Roofing completed work on my metal roof on two commercial buildings. The work was done promptly and completely. They came back out and reviewed all the work and even returned for a small bolt that still needed to be sealed. Very happy with the quality of work and materials they used.

I hired Wilson Roofing and Renovations to replace a roof on my home after hail damage. Not only was Brad and his team super professional, but they also got it done quickly, communicated well, did it for a great price and did a really great

Fantastic from initial contact through job completion. Brad communicated all his ideas in person and through the estimate and Sergio and the crew delivered on the promised roof. Had to replace it due to hail and hope it doesn't happen again soon, but would call them in a hurry if it does.