We can help with all types of roofing services in Florida – from small residential repairs to complex commercial installations.
Get More with Roofing in Florida
Wilson Roofing and Renovations provides a large range of services for your roofing in Florida. Our trained experts are prepared for anything from a small roof repair to a commercial roof replacement. We've got experience with flat roofs and materials of all kinds, including metal roofing. We're also available 24/7 for your emergency roofing needs, so call us today and schedule an estimate!
We'll Repair Your Roofing in Florida
It's important to have a professional roofing company to handle your repair needs. Our experts can inspect your roof regularly to catch any issues before they become major problems.
Leaks are a common issue in Florida and it's important to get them repaired as soon as possible to prevent further damage to your home. We'll give your home a thorough inspection, because it might not just affect your materials.
Roof repair can show up in the underlayment, vents, gutters, and chimney. We'll also work with your insurance company, because we know it can be stressful. You might only have to pay the deductible for your roofing in Florida, so call us today and get started!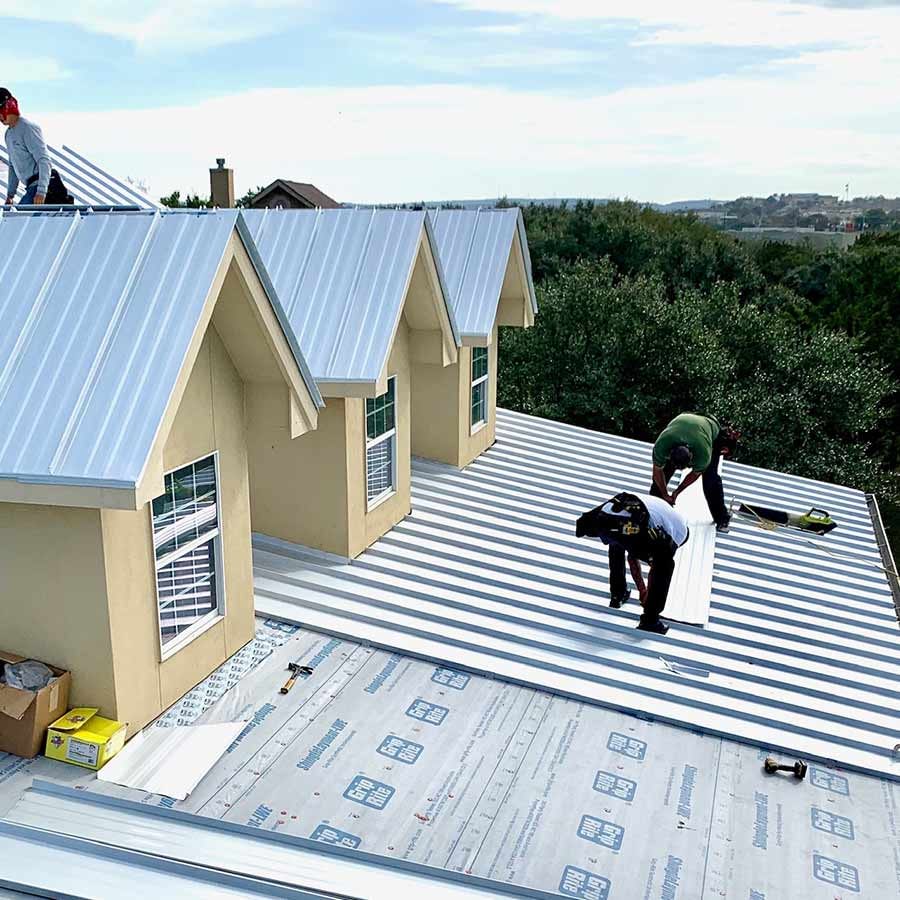 Signs that You Need Roofing in Florida
Hail Damage
Hail is one of the biggest causes of roofing damage. Small pieces won't do as much, but hail can cause issues with your vent hood, skylights, chimney, roofing materials, or skylights.
Roof Leaks
You don't have to have missing roofing materials for your home to show signs of a leak. If you have a leak, you could experience water stains or spots, mold growth, or weakened roofing.
Damaged or Missing Shingles
One of the most obvious ways to know you need a roof replacement is when your shingles are missing. Since this exposes your underlayment and roof deck, it can cause serious damages and costs if you don't contact us as soon as possible.
Fascia Warping or Molding
Fascia is the edge that seals where your gutters are attached to the roof. If this band has any problems, it can lead to water damages.
We're Here for Your Roof Replacement
Different roofing materials can last longer than others, like metal roofing that lasts for up to 70 years while asphalt shingles are usually good for 12-20. When it's time to replace your roof, you might notice signs like cracking, peeling, or missing materials. However, even if your roof isn't showing issues, you might want to think about replacing it when it's at least 20 years old.
Each material can show age and wear differently, so it's good to know the lifespan of your material. Our professionals have a lot of experience with roofing, so you can count on us to inspect your roof and make sure that your home is secure. We recommend an inspection periodically, but especially after a storm. 
Roof replacement isn't just about getting new materials installed, though. Ventilation is crucial for preventing moisture buildup and extending the life of the roof. The roof pitch and runoff also play a role in preventing leaks. The material you choose for your roof will also depend on the amount of weight your roof can hold. When you want to get a complete roof replacement with the best results, give us a call today and schedule your inspection!
Need a New Roof Installation?
One of the biggest choices you'll have to make for your home is the roof. That's because it's responsible for so much, from the overall look of your home to keeping you and your family safe from the elements. Working with a professional can ease the burden, and our experts at Wilson Roofing and Renovations can help. We've got experience with numerous options of roofing, including asphalt shingles, standing-seam metal, and tile. You'll want to pick a material that can withstand extreme heat and weathering, so you can trust our recommendations. We want to make sure you get the most out of your quality roof, which is why we'll also give you a proper roof installation. If you need a new roof installed, or a roof replacement, give us a call today and schedule your estimate!
Severe weather can cause damage to many parts of a home, including the roof. That's why the latter part of Wilson Roofing and Renovations focuses on repairing anything from fences and siding to windows and gutters. When you work with our professionals, we'll make sure that all repairs are done correctly and safely. 
Our team is also experienced with insurance claims, so we'll do our best to help you get maximum coverage. If you've had serious weather come through and damage your property, give us a call today and schedule your inspection!
Benefits of Metal Roofing
There are many ways that metal roofing can improve your home's protection and energy efficiency, with benefits like:
Longevity. When you let us install your metal roof, it could be up there for 40-70 years. It depends on which metal you choose, but it's all better than the 12-20 years you might get with asphalt shingles.
Durability. Metal roofs are capable of handling extreme winds when our experts install them. You won't have to worry about them cracking or corroding over time, and some metals, like steel, are impact-resistant. On top of withstanding 140 mile-per-hour winds, metal doesn't need as much maintenance as other materials, though we do suggest an inspection every now and then.
Safety. Metal offers a lot of protection, and it's nearly fireproof. With wildfires being more common, it's good to know that your roof won't ignite or spark.
Efficiency. Metal reflects sunlight, which can reduce your air conditioning costs every year.
Don't just take our word for it. We have hundreds of happy customers.
I'm giving Wilson Roofing and Renovations Five stars. I appreciate the professionalism and friendliness. My experience with this company was a positive one; from the initial call with Brad to the contractors (Mark and John) arriving on-time to re-install my flue cap. The contractors made sure there was no other damage to my roof and ensured that the other caps were in place and secure. 

Wilson Roofing and Renovations did a great job, their men worked all day till the job was done. If I could give them 6 stars I would. Mark and Johnny were very friendly and informative throughout the process with the insurance company. GREAT job and will definitely use them again.

Was very apprehensive about the process, but Wilson Roofing and Renovations was professional in every aspect of the process. Brad's entire team is exceptional.
I am thrilled with the new roof and the painting of the 4,500 sq ft house all completed in just 4 days. A company that stands by their word and produces what they promise.

I needed some minor repairs completed to my home in preparation for selling it and Mark and his team were great. From Mark keeping his word about when the estimate would be given to the price, the entire process couldn't have been smoother!

Wilson Roofing completed work on my metal roof on two commercial buildings. The work was done promptly and completely. They came back out and reviewed all the work and even returned for a small bolt that still needed to be sealed. Very happy with the quality of work and materials they used.

I hired Wilson Roofing and Renovations to replace a roof on my home after hail damage. Not only was Brad and his team super professional, but they also got it done quickly, communicated well, did it for a great price and did a really great

Fantastic from initial contact through job completion. Brad communicated all his ideas in person and through the estimate and Sergio and the crew delivered on the promised roof. Had to replace it due to hail and hope it doesn't happen again soon, but would call them in a hurry if it does.